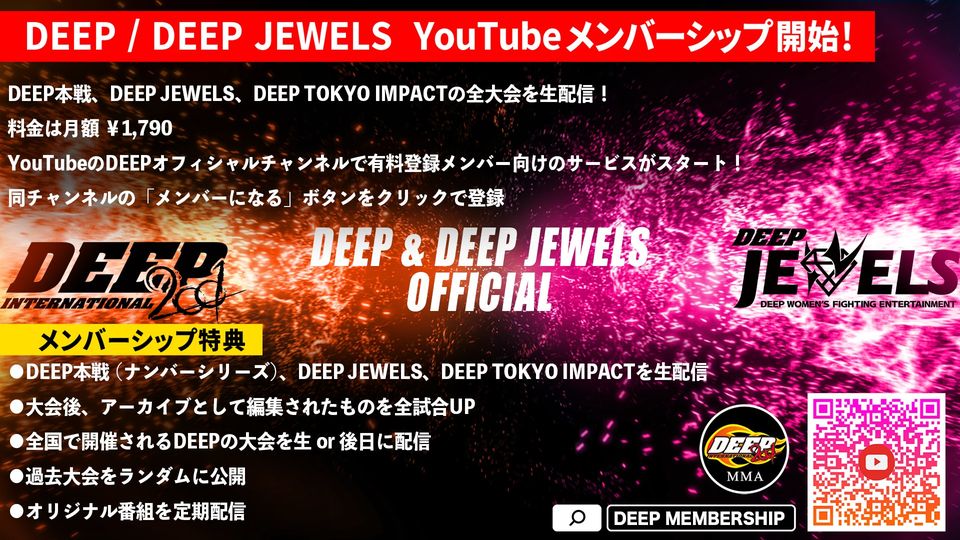 STARTING MARCH WE ARE LAUNCHING THE DEEP YOU TUBE MEMERSHIP SERVICE FOR 1790 JPY A MONTH YOU WILL HAVE ACCESS TO :
ALL DEEP CARD ( JEWELS , TOKYO IMPACT , DEEP NUMBER SERIES ) LIVE BROADCAST
ENTIRE EVENT DOWNLOAD AS ARCHIVE SHORTLY AFTER THE EVENTS
EXCLUSIVE AND ORIGINAL CONTENTS
DEEP JEWELS 40 ,DEEP 112 AND FUTURE KING TOURNAMENT WILL BE ADDED TO THE SERVICE AS THE FIRST STEPS OF THE SERVICE STARTS . DEEP TOKYO IMPACT IMPACT 2023 1ST AND 2ND WILL BE EXCLUSIVELY BROADCASTED TO THE SERVICE .
DON'T MISS THIS OPPORTUNITY TO GET YOUR DEEP CONTENT AT THE BEST PRICE !!